Francine Ingabire, BA, MA (Gender Studies)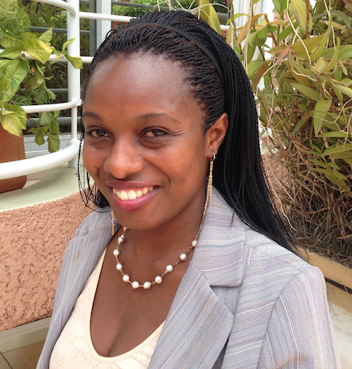 Title/Position with TSAM MNCH: Manager for Community Health
Experience:
In-charge of Community Health worker at Muremure Health Center in Ruhango District
Environmental Health Officer at Gikondo Health Center in Kigali City
Monitoring and Evaluation Officer in HIV Prevention Project at Association des Chauffeurs des Poids Lourd Au Rwanda in Collaboration with Family Health International

What makes you happiest?
Living in peace with good team working and, helping people who are depressed/ who are living in bad condition, to become happy and being healthy.
What's your verb?
Create innovation
What is your greatest accomplishment?
My greatest accomplishment is being in TSAM MNCH Project, after working hard and got my master's degree while I was mother of 2 children.
What one event in your childhood had the biggest impact on your life?
When I was a child my parents, especially my Dad used to teach me through book stories and took time to listen to me and used probing questions to help me be open and disclose to him about my past, present and future. Now, I like family harmony.
How did you become involved with this project?
I had been encouraged to apply, through my best friend/colleague who really knows me saying that I am the best candidate, I applied and succeeded in getting a position.
What are your aspirations for Maternal, Newborn and Child Health in Rwanda?
Based on my experience and background related to Community Health and Gender Studies, I want to be professional in MNCH Program. In addition, I would like to give my contribution in reduction of maternal and child mortality working with community through strengthening the family harmony. As the TSAM MNCH project is encouraging staff to be innovators, I will use my skills and knowledge to contribute to TSAM innovations related to MNCH Program. Finally, I wish to continue learning and getting master's degree in family counselling related subject for improving my knowledge and professionally being able to promote harmony in families.