Announcements
Introducing a new team member to the TSAM family – Dr. Joyce Musabe!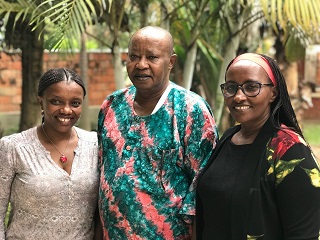 Joyce comes to us from the Rwanda Education Board, where she served as the Head of Curriculum and Material Development for 7 years, until April 2018. Previous to this she held a position as the Director of Education with the Rwanda Union Mission of the Seventh-Day Adventist Church.TSAM is very pleased to welcome Dr. Joyce Musabe as the new Senior Project Manager for TSAM – Rwanda.
Joyce also brings significant experience to this role through her service a Board Director for numerous organizations including: the Institute of National Museums of Rwanda (INMR), Institute of Policy Analysis and Research –Rwanda (IPAR), Kigali Independent University (ULK), Kigali Institute of Education/University of Rwanda, General Inspectorate of Education, and Rwanda National Examinations Council, and as a Member of the Academic Senate Accrediting Association (AAA) and International Board of Education (IBE) Adventist University of Central Africa.
Aimee Josephine Utuza, our esteemed former Senior Project Manager will continue to work with the TSAM project as she begins a PhD at Western University in Health Promotion through the Health and Rehabilitation Sciences Graduate Program. We thank Aimee for her leadership and contributions on various projects over the years and wish her the very best with her continuing studies.
We would like to extend a heartfelt welcome to Joyce as the newest member of the TSAM team.